---
First images of X-47B on the USS Harry S. Truman released
2012-12-11
Only one thing to add to this, wow! Just look at the size of the thing. With nobody to keep alive on board it must have quite an endurance.
The X-47B Unmanned Combat Air System (UCAS) demonstrator taxies on the flight deck of the aircraft carrier USS Harry S. Truman (CVN 75). Harry S. Truman is the first aircraft carrier to host test operations for an unmanned aircraft. Harry S. Truman is underway supporting carrier qualifications. (U.S. Navy photo by Mass Communication Specialist 3rd Class Kristina Young/Released)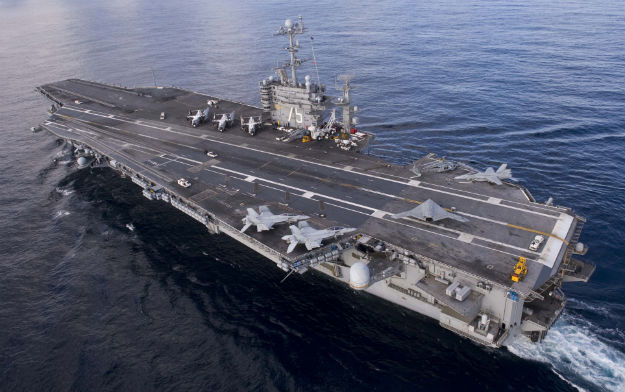 Region:
USA and Canada
Contry:
USA
Category:
UAV
Company:
Northrop Grumman
---
Use(s): the Navy UCAS demonstration programme consists of two X-47B aircraft that will demonstrate autonomous launches and recoveries from an aircraft carrier in 2011 Manufacturer: Northrop Grumman Aerospace Systems Weight: max payload: 4,500lb, 2,041kg  Performance: ceiling: >40,000ft, mission radius: >1,500+nm Payload: potential payloads include EO, IR, SAR, ISAR, GMTI, MMTI, ESM Launch: catapult Recovery: conventional wheeled Structure Material: composite Status: in flight test Overall Length: 11.6m (38.2ft) Wingspan: 18.9m (62.1ft) Height: 3.2m (10.4ft) Aircraft Carrier Takeoff Gross Weight: 20,412kg (44,500lb) Speed: High subsonic Power Plant: Pratt & Whitney F100-220U

---
2014-02-25
Australia should boost stocks in drone aircraft, military lobby group says
AN influential air power lobby group wants Australia to acquire long-range unmanned combat aircraft that can fire precision missiles against targets without risk to pilots.
2011-11-29
Navy's twin stealth drone takes flight
The second X-47B demonstrator aircraft for the Navy's UCAS-D program completed its first flight on Nov. 22 at Edwards Air Force Base, Calif. The computer-controlled unmanned aircraft takes off and flies a pre-programmed mission and then returns to base in response to mouse clicks from a mission operator. The operator monitors the flight, but doesn't actively control it remotely, as for other drones.
2011-10-11
Unmanned Combat Air System Test Aircraft Reaches Major Milestone
The U.S. Navy/Northrop Grumman Corporation (NYSE:NOC) X-47B Unmanned Combat Air System Demonstration aircraft reached a major milestone Sept. 30 when it retracted its landing gear and flew in its cruise configuration for the first time.
2011-02-15
Northrop Grumman's X-47B (UCAS-D) successfully took off
4 Feb. 2010, Edwards Air Force Base, Calif. Northrop Grumman's X-47B Unmanned Combat Air System Demonstration (UCAS-D) successfully took off climbing up to 1500m. high, being airborne about half an hour. The flight provided test data to verify and validate system software for guidance and...
---
Reports
A host of new users is changing the world of commercial aviation thanks in large part to the Federal Aviation Administration's (FAA) small unmanned aircraft rule, Part 107 (PDF), which has now been in place for a year.  
Information: