---
News
2013-07-11
To be released by Horizon Hobby just in time for Christmas a competitor for the DJI Phantom the current king of the ready to fly GoPro capable multirotors that has been on the market since January 2013. Parrot might be kicking themselves that they have not created a slightly more capable AR.Drone that can lift a GoPro out of the box without modifications.
GPS hold and return to launch all for the very reasonable price of $469 just a shade over $200 cheaper than the Phantom. If you already have a TX you can buy a bind and fly version for $419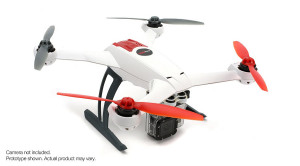 let the GoPro quadcopter price wars begin!
Blade is taking their knowledge of heli design to the aerial video market with the 350 QX. This highly capable quadcopter features dynamic flight modes that enable stable video capture from an included GoPro® compatible camera mount. With the 350 QX, novices and experts alike can get involved in this exciting hobby with Ready-to-Fly and Bind-N-Fly models available upon release.
Key Features
SAFE™ technology provides three flight modes with the flip of a switch
Smart Mode with GPS/altitude hold, stick relativity and the innovative SAFE circle
Stability Mode with flight envelope protection and GPS hold
Agility Mode for aerobatics and aggressive flying
Return Home function automatically lands at the home position
GoPro® compatible anti-vibration camera mount* included (camera not included)
Intelligent motor control automatically stops the propellers upon impact with an object
Ready-to-Fly out of the box with a Spektrum™ DX5E transmitter, 3S 2200mAh LiPo battery and charger
source: suasnews.com

Region:
USA and Canada
Contry:
USA
Category:
UAV
---
2016-08-28
Do Hobby Fliers Need to Take the Part 107 Test?
Part 107, the Small UAS Rule, takes effect on Monday – and recreational drone operators as well as commercial drone pilots may have to take the Part 107 Test. 
2016-08-26
Ohio Turnpike Preparing to use Drones for Inspection
The Ohio Turnpike and Infrastructure Commission in September will complete its first bridge inspection using an unmanned aircraft system, or drone.The drone will be used to inspect the Sandusky River Bridge, a 970-foot-long bridge in Sandusky County on either Sept. 13 or Sept. 14, depending on the weather.
2016-08-26
US Army Seeks to Retool Mobile Radar to Track Drones
The US Army has issued a sources-sought notice for software to expand the versatility of mobile radar to track threats posed by military drones.
2016-08-18
Amazon Patent Filing Reveals Delivery Drone Designs
A newly published patent application almost literally delves into the nuts and bolts of the package-delivering drones that Amazon is developing – but it also makes clear that the look of the drones could vary, depending on where and how they're being used.
2016-08-18
Northrop Grumman Employees 2016 Quad Cup Innovation Challenge
Northrop Grumman conducted a mini-drone Olympic-type competition as a way to further foster innovation within the firm and advance small-drone ISR and attack technology.
2016-08-17
NASA Licenses UAV Auto-Tracking Mobile Antenna Platform
NASA has designed an innovative antenna-mounting platform that meets the needs of the unmanned aircraft market by providing a low-cost, low-power mobile auto-tracking antenna. The patent-pending platform offers continuous rotation of nearly 60 pounds of antennas, transmitters, and receivers along with customized software to automatically track a target such as an unmanned aerial vehicle, or UAV, which can be any size aircraft.
2016-08-17
DARPA Wants Ideas for Protecting Against sUAS
The rapid evolution of small unmanned air systems (sUAS) technologies is fuelling the exponential growth of the commercial drone sector, creating new asymmetric threats for warfighters. sUASs' size and low cost enable novel concepts of employment that present challenges to current defense systems.
2016-08-16
USAF to Provide More Pay, Bases for RPAS
The US Air Force is about to take two more major steps as part of its "get well" program for the remotely piloted aircraft enterprise—a big pay boost for RPA pilots and new operating bases for the aircraft.
2016-08-12
US Navy Deploys RQ-20B AeroVironment Puma AE
AeroVironment, Inc. announced the United States Navy has tested and deployed the RQ-20B Puma small unmanned aircraft system (UAS) aboard a Flight I Guided Missile Destroyer (DDG Class). Some of these exercises included the use of AeroVironment's fully autonomous system to recover the aircraft aboard a ship. The US Navy issued a report on August 3 from the Arabian Gulf describing how Puma AE is also being utilized (see "US Ships Utilize Small Eye in the Sky") on Navy Patrol Craft.
2016-08-12
Medical Deliveries by Drone in Maryland USA
The White House approved a pilot program last week that will allow Maryland's Smith Island and two other remote communities in the U.S. to start receiving medical supplies via drone.
---

Parse error: syntax error, unexpected T_ENCAPSED_AND_WHITESPACE in /var/www/ruvsa/data/www/en.ruvsa.ru/bitrix/managed_cache/MYSQL/b_file/5a/5ad5ebaece0bbfabb73c5b6726823f71.php on line 5