---
Horizon Hobby 350 QX, GoPro quadcopter
2013-07-11
To be released by Horizon Hobby just in time for Christmas a competitor for the DJI Phantom the current king of the ready to fly GoPro capable multirotors that has been on the market since January 2013. Parrot might be kicking themselves that they have not created a slightly more capable AR.Drone that can lift a GoPro out of the box without modifications.
GPS hold and return to launch all for the very reasonable price of $469 just a shade over $200 cheaper than the Phantom. If you already have a TX you can buy a bind and fly version for $419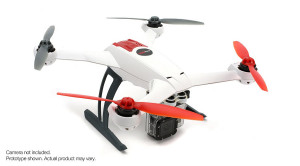 let the GoPro quadcopter price wars begin!
Blade is taking their knowledge of heli design to the aerial video market with the 350 QX. This highly capable quadcopter features dynamic flight modes that enable stable video capture from an included GoPro® compatible camera mount. With the 350 QX, novices and experts alike can get involved in this exciting hobby with Ready-to-Fly and Bind-N-Fly models available upon release.
Key Features
SAFE™ technology provides three flight modes with the flip of a switch
Smart Mode with GPS/altitude hold, stick relativity and the innovative SAFE circle
Stability Mode with flight envelope protection and GPS hold
Agility Mode for aerobatics and aggressive flying
Return Home function automatically lands at the home position
GoPro® compatible anti-vibration camera mount* included (camera not included)
Intelligent motor control automatically stops the propellers upon impact with an object
Ready-to-Fly out of the box with a Spektrum™ DX5E transmitter, 3S 2200mAh LiPo battery and charger
source: suasnews.com

Region:
USA and Canada
Contry:
USA
Category:
UAV
---
2015-10-06
Using drones to scare off flying foxes could help lychee industry expand
A Queensland lychee grower is investigating using an automated drone to help combat the damage done to his orchard by flying foxes and lorikeets.
2015-10-06
UK 'Protector' UAV Fleet to Replace RAF Reapers
The UK is to receive 20 new 'Protector' unmanned aerial vehicles (UAVs) as part of a wider ramp-up of unmanned, surveillance, and special forces capabilities to combat militant Islam in the Middle East, Prime Minister David Cameron announced on 3 October.
2015-10-04
UK drone fleet to double in fight against IS, says PM
David Cameron has promised to increase Britain's military capability to fight Islamic State militants in Iraq and Syria, including a doubling of the RAF's fleet of drones.
The prime minister also told the Sunday Telegraph the UK would spend hundreds of millions of pounds on state-of-the-art equipment for special forces.
2015-10-04
Review: DJI's Inspire 1 Pro is a Perfect Drone For Pro Shooters And Super Villains
The innovative folks at DJI continue to design drones that push the limits of aerial photography (and empty the wallets of eager onlookers). A new edition of the Inspire 1 with an added Micro Four Thirds camera system recently arrived on the scene, and we just had a chance to test it out. Let's see if it lives up to the high demands of its price tag.
2015-10-04
Drones usage near Memorial Stadium on gameday on the rise, police say
University of Nebraska-Lincoln police have busted a spate of drone operators for flying unmanned aircraft near Memorial Stadium on gamedays.
2015-10-03
House to weigh drone safety
The House Transportation Committee is planning to hold a hearing on drone safety next Wednesday, as the Federal Aviation Administration (FAA) considers a drastic expansion of the use of the devices.
2015-10-02
3W Provides Complete Engine Systems
The UAV provider's market is growing continually. Especially civilian applications are increasing rapidly. UAVs' development times are consequently diminishing. Suppliers must react flexibly to this development. 3W International now creates complete solutions for customers or supports them during development.
2015-10-01
Conestoga Valley High School buzzing about drones
Several students in Anthony Thomas's television production and video classes have likened it to Christmas morning.
2015-10-01
Drones could reduce cost of forest conservation
Just as drones have transformed wildlife conservation and illegal fishing patrols, they may soon make a big impression on forest conservation. Unmanned aerial vehicles could replace people in monitoring forest regeneration projects in the tropics, with consequent savings in time and money as well as much-improved data collection.
2015-10-01
CU-Boulder to develop drones for severe-storm research
The University of Colorado-Boulder will develop drones that will allow researchers to observe and better understand the behavior of severe storms.
---
Reports
Information: