---
Horizon Hobby 350 QX, GoPro quadcopter
2013-07-11
To be released by Horizon Hobby just in time for Christmas a competitor for the DJI Phantom the current king of the ready to fly GoPro capable multirotors that has been on the market since January 2013. Parrot might be kicking themselves that they have not created a slightly more capable AR.Drone that can lift a GoPro out of the box without modifications.
GPS hold and return to launch all for the very reasonable price of $469 just a shade over $200 cheaper than the Phantom. If you already have a TX you can buy a bind and fly version for $419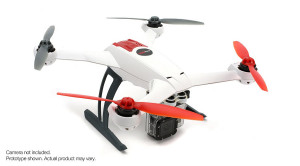 let the GoPro quadcopter price wars begin!
Blade is taking their knowledge of heli design to the aerial video market with the 350 QX. This highly capable quadcopter features dynamic flight modes that enable stable video capture from an included GoPro® compatible camera mount. With the 350 QX, novices and experts alike can get involved in this exciting hobby with Ready-to-Fly and Bind-N-Fly models available upon release.
Key Features
SAFE™ technology provides three flight modes with the flip of a switch
Smart Mode with GPS/altitude hold, stick relativity and the innovative SAFE circle
Stability Mode with flight envelope protection and GPS hold
Agility Mode for aerobatics and aggressive flying
Return Home function automatically lands at the home position
GoPro® compatible anti-vibration camera mount* included (camera not included)
Intelligent motor control automatically stops the propellers upon impact with an object
Ready-to-Fly out of the box with a Spektrum™ DX5E transmitter, 3S 2200mAh LiPo battery and charger
source: suasnews.com

Region:
USA and Canada
Contry:
USA
Category:
UAV
---
2016-02-10
Transport Canada to Introduce New UAV Guidelines
Transport Canada is preparing to introduce new guidelines for the operation of unmanned air vehicles similar to those being proposed in Europe.
2016-02-09
Disney Patents Drone-Based Movie Projection System
In a move that Disney says could advance entertainment as well as advertising, the media powerhouse has filed a patent application for a "projection assembly for use with an unmanned aerial vehicle (UAV)," according to a copy of the filing.
2016-02-08
US Military Tests Robo-Parachute Delivery without GPS
Recent tests of the U.S. Army's Joint Precision Airdrop System (JPADS) have been trying new navigational software—developed by the Draper Laboratory in Cambridge, Mass., and other companies—to achieve GPS-style accuracy with images alone.
2016-02-08
EASA Recommendations for UAS Airspace Integration
The European Aviation Safety Agency (EASA) has issued a technical opinion on the future of unmanned aircraft systems (UAS) in the skies over the European Union (EU), dividing them into three classes, and issuing 27 recommendations for their safe operation in EU airspace.
2016-02-03
CBP Tests Predator at Civilian Airport
U.S. Customs and Border Protection's (CBP) Air and Marine Operations (AMO) division announced late last week it is testing a programme to operate Predator drones from a civilian airport in San Angelo, Texas.
2016-02-03
AUVSI provides Interactive Map of UAS Legislation
The Association for Unmanned Vehicles Systems International (AUVSI) has been tracking all active legislation pertaining to unmanned systems. This year, to provide the best information to its members, legislators, regulators and the media, AUVSI has organized data on all unmanned systems-related state legislation into a sortable, interactive map with details that include a summary of each bill.
2016-02-02
Skybender: Google's Secret 5G Internet Drone Tests
Google is testing solar-powered drones at Spaceport America in New Mexico to explore ways to deliver high-speed internet from the air. In a secretive project codenamed SkyBender, the technology giant built several prototype transceivers at the isolated spaceport last summer, and is testing them with multiple drones, according to documents obtained under public records laws.
2016-01-31
Palm-Sized Selfie Drone
The palm-sized ONAGOfly is an affordable GPS-enabled drone that automatically takes photos using smile and obstacle recognition technology.
2016-01-31
L-3 Link to Build 34 Predator Mission Aircrew Training Systems for US Air Force
L-3 Link Simulation & Training (L-3 Link) has announced that it has been awarded a contract option from the U.S. Air Force to build 34 new Predator Mission Aircrew Training System (PMATS) simulators. The contract was awarded by the U.S. Air Force's Life Cycle Management Center at Wright-Patterson Air Force Base.
2016-01-29
The Surrogate Predator Program
Operating Predator and Reaper drones over the battlefield involves dozens of people. One of the most difficult and crucial jobs within this network is that of the Joint Tactical Air Controller, or JTAC. These personnel serve as the link between troops on the ground and air assets, and are responsible for calling in air support.
---
Reports
The US Government has issued an Invitation to the Unmanned Aircraft Industry for Review and Comment Period on Edition 1 of NATO Standardization Agreement (STANAG) 4703 Light Unmanned Aircraft Systems (UAS) Airworthiness Requirements.
Information: