---
Horizon Hobby 350 QX, GoPro quadcopter
2013-07-11
To be released by Horizon Hobby just in time for Christmas a competitor for the DJI Phantom the current king of the ready to fly GoPro capable multirotors that has been on the market since January 2013. Parrot might be kicking themselves that they have not created a slightly more capable AR.Drone that can lift a GoPro out of the box without modifications.
GPS hold and return to launch all for the very reasonable price of $469 just a shade over $200 cheaper than the Phantom. If you already have a TX you can buy a bind and fly version for $419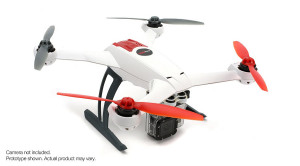 let the GoPro quadcopter price wars begin!
Blade is taking their knowledge of heli design to the aerial video market with the 350 QX. This highly capable quadcopter features dynamic flight modes that enable stable video capture from an included GoPro® compatible camera mount. With the 350 QX, novices and experts alike can get involved in this exciting hobby with Ready-to-Fly and Bind-N-Fly models available upon release.
Key Features
SAFE™ technology provides three flight modes with the flip of a switch
Smart Mode with GPS/altitude hold, stick relativity and the innovative SAFE circle
Stability Mode with flight envelope protection and GPS hold
Agility Mode for aerobatics and aggressive flying
Return Home function automatically lands at the home position
GoPro® compatible anti-vibration camera mount* included (camera not included)
Intelligent motor control automatically stops the propellers upon impact with an object
Ready-to-Fly out of the box with a Spektrum™ DX5E transmitter, 3S 2200mAh LiPo battery and charger
source: suasnews.com

Region:
USA and Canada
Contry:
USA
Category:
UAV
---
2016-04-26
US Army uses Iron Dome to Down Drone
Israel's Iron Dome missile-defense system successfully intercepted an unmanned drone in the United States last week, in the battery's first-ever trial on foreign soil.
2016-04-25
HyDrone 1800: MMC announces first Hydrogen Drone
Micromulticopter Aero Technology, Co. Ltd. (MMC) showed video footage of the first commercially available hydrogen drone, the HyDrone 1800. The HyDrone 1800 is one of the first commercially available drones to run on Hydrogen using fuel cell technology.
2016-04-25
NASA Success for Complex Drone Traffic Management Test at FAA Test Sites
In the first and largest demonstration of its kind, NASA and operators from the Federal Aviation Administration's (FAA) unmanned aircraft systems (UAS) test sites across the country flew 22 drones simultaneously to assess rural operations of NASA's UAS traffic management (UTM) research platform.
2016-04-22
Solar Electric Drone Company Honored by Innovation New Mexico
Solar electric drone company Silent Falcon™ UAS Technologies (Silent Falcon) has been named an honoree by Innovation New Mexico.
2016-04-22
Senate Bill Reinforces Federal Control Over Drones
Legislation passed by the U.S. Senate could pave the way for the commercial deployment of drones in the national airspace, besides addressing safety issues by, for example, providing for a pilot that would find ways to lock down errant drones if they are close to airports.
2016-04-21
NASA Demonstrates UTM System: Air Traffic Control for Drones
NASA has launched 24 drones in a test of the UAS Traffic Management (UTM) platform. The largest test so far of the system involved 24 drones flying simultaneously at 6 FAA test sites across the country.
2016-04-20
Aurora Successfully Flies Subscale X-Plane Aircraft
Aurora Flight Sciences announced that a subscale vehicle demonstrator (SVD) of its LightningStrike, Vertical Take-off and Landing Experimental Plane (VTOL x-plane) for the Defense Advanced Research Projects Agency (DARPA) was successfully flown at a U.S. military facility.
2016-04-19
NASA Preparing for Fourth Series of Flight Tests
NASA and its partners, General Atomics Aeronautical Systems, Inc., Honeywell International and the RTCA Special Committee (SC)-228, are validating and advancing technologies that will assist the Federal Aviation Administration as they develop the regulations to allow integration of Unmanned Aircraft Systems (UAS) into the National Airspace System (NAS).
2016-04-18
DJI Plows Ahead – Announces Advanced Imaging Capabilities for Osmo & Matrice
DJI is simply not going to sit still. Yesterday, the Shenzhen based leader in drone technology, released advanced imaging solutions for both consumers and professionals.
2016-04-17
USAF to Integrate Litening Pod onto Reaper
The US Air Force is to integrate the Northrop Grumman AN/AAQ-28(V) Litening targeting and designation pod onto the General Atomics Aeronautical Systems Inc MQ-9 Reaper unmanned aircraft system (UAS) to demonstrate the capability, it was disclosed on 12 April.
---
Reports
Information: