---
Horizon Hobby 350 QX, GoPro quadcopter
2013-07-11
To be released by Horizon Hobby just in time for Christmas a competitor for the DJI Phantom the current king of the ready to fly GoPro capable multirotors that has been on the market since January 2013. Parrot might be kicking themselves that they have not created a slightly more capable AR.Drone that can lift a GoPro out of the box without modifications.
GPS hold and return to launch all for the very reasonable price of $469 just a shade over $200 cheaper than the Phantom. If you already have a TX you can buy a bind and fly version for $419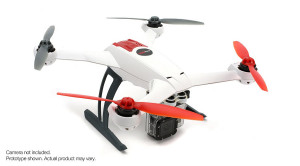 let the GoPro quadcopter price wars begin!
Blade is taking their knowledge of heli design to the aerial video market with the 350 QX. This highly capable quadcopter features dynamic flight modes that enable stable video capture from an included GoPro® compatible camera mount. With the 350 QX, novices and experts alike can get involved in this exciting hobby with Ready-to-Fly and Bind-N-Fly models available upon release.
Key Features
SAFE™ technology provides three flight modes with the flip of a switch
Smart Mode with GPS/altitude hold, stick relativity and the innovative SAFE circle
Stability Mode with flight envelope protection and GPS hold
Agility Mode for aerobatics and aggressive flying
Return Home function automatically lands at the home position
GoPro® compatible anti-vibration camera mount* included (camera not included)
Intelligent motor control automatically stops the propellers upon impact with an object
Ready-to-Fly out of the box with a Spektrum™ DX5E transmitter, 3S 2200mAh LiPo battery and charger
source: suasnews.com

Region:
USA and Canada
Contry:
USA
Category:
UAV
---
2016-05-26
US Office of Naval Research Tests Drone Swarms
The Department of the Navy's Office of Naval Research this week released this video showing a 30 aircraft flight of UAVs directed in tandem by the Navy and researchers from the Georgia Tech Research Institute of the Georgia Institute of Technology.
2016-05-26
DroneDeploy Releases Integrated iOS and Android App
DroneDeploy, a cloud software platform for commercial drones, is making powerful aerial data accessible and productive for everyone with the new release of its fully integrated, free iOS and Android app, to deliver a more seamless and engaging drone mapping experience.
2016-05-25
US Terrorism Combat Office Evaluating Tethered UAS
AeroVironment, Inc. announced at the Special Operations Forces Industry Conference that the United States Combatting Terrorism Technical Support Office (CTTSO) is evaluating the company's new tethered unmanned aircraft system, named Tether Eye™, for intelligence, surveillance, reconnaissance (ISR) and security applications. The CTTSO funded the development program under a US government contract.
2016-05-25
US Air Force Flight Plan Outlines Next 20 Years for sUAS
US Air Force leaders outlined what the next 20 years will look like for remotely piloted aircraft in the Small Unmanned Aircraft Systems Flight Plan.
2016-05-22
Drone Privacy Best Practices: Dept of Commerce Weighs In
The National Telecommunications and Information Administration (NTIA), an arm of the Department of Commerce, released a list of voluntary best practices for drone privacy yesterday.
2016-05-20
FAA Tests FBI Drone Detection System
The FAA has partnered with the FBI to test new a new drone detection system at JFK International Airport in New York.
2016-05-20
US Air Force Flight Plan Outlines Next 20 Years for sUAS
US Air Force leaders outlined what the next 20 years will look like for remotely piloted aircraft in the Small Unmanned Aircraft Systems Flight Plan.
2016-05-19
US Navy to Deploy AeroVironment Blackwing Reconnaissance Systems on Attack and Guided Missile Submarines
AeroVironment, Inc. announced the United States Navy plans to deploy its "Blackwing," a small, tube-launched unmanned aircraft system that deploys from under the surface of the sea, on manned submarines and unmanned underwater vehicles.
2016-05-17
USAF to Automate MQ-9 Takeoffs and Landings
The US Air Force is pressing forward with a General Atomics Aeronautical Systems MQ-9 Reaper upgrade that would allow the widely fielded armed aircraft to takeoff and land automatically.
2016-05-15
Long range solar electric UAS performs oil and gas inspections
Silent Falcon UAS Technologies recently completed flights with a solar electric, fixed wing, long range unmanned aircraft system to inspect and monitor oil and gas production and distribution assets.
---
Reports
The Defense Advanced Research Projects Agency yesterday hosted DARPA Demo Day 2016 at the Pentagon, giving the Defense Department community an up-close look at the agency's portfolio of innovative technologies and military systems.
Information: