---
Horizon Hobby 350 QX, GoPro quadcopter
2013-07-11
To be released by Horizon Hobby just in time for Christmas a competitor for the DJI Phantom the current king of the ready to fly GoPro capable multirotors that has been on the market since January 2013. Parrot might be kicking themselves that they have not created a slightly more capable AR.Drone that can lift a GoPro out of the box without modifications.
GPS hold and return to launch all for the very reasonable price of $469 just a shade over $200 cheaper than the Phantom. If you already have a TX you can buy a bind and fly version for $419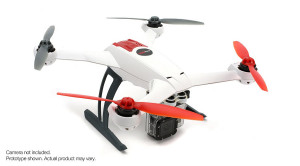 let the GoPro quadcopter price wars begin!
Blade is taking their knowledge of heli design to the aerial video market with the 350 QX. This highly capable quadcopter features dynamic flight modes that enable stable video capture from an included GoPro® compatible camera mount. With the 350 QX, novices and experts alike can get involved in this exciting hobby with Ready-to-Fly and Bind-N-Fly models available upon release.
Key Features
SAFE™ technology provides three flight modes with the flip of a switch
Smart Mode with GPS/altitude hold, stick relativity and the innovative SAFE circle
Stability Mode with flight envelope protection and GPS hold
Agility Mode for aerobatics and aggressive flying
Return Home function automatically lands at the home position
GoPro® compatible anti-vibration camera mount* included (camera not included)
Intelligent motor control automatically stops the propellers upon impact with an object
Ready-to-Fly out of the box with a Spektrum™ DX5E transmitter, 3S 2200mAh LiPo battery and charger
source: suasnews.com

Region:
USA and Canada
Contry:
USA
Category:
UAV
---
2016-09-28
Navy Awards Unmanned Carrier Aircraft Concept Contracts to Boeing and Lockheed Martin
The US Navy has awarded contracts to two contractors to refine concepts for the future MQ-25 unmanned carrier-based aerial refuelling aircraft.
2016-09-28
GA-ASI Demonstrates Advanced Communications Capability
General Atomics Aeronautical Systems, Inc. (GA‑ASI) has announced that its Network Centric Communications Pod (NCCP) successfully demonstrated the ability to provide a robust communications data link between Unmanned Aircraft System (UAS) and U.S. Marine Corps (USMC) ground and air forces during an exercise held at Marine Corps Air Ground Combat Center (MCAGCC), Twentynine Palms, California, in July.
2016-09-23
Certifiable Predator B Nears Flight Test Phase
General Atomics Aeronautical Systems is carrying out ground tests of its newly built Certifiable Predator B unmanned air vehicle, ahead of a flight campaign at the US Army's Yuma Proving Ground throughout 2017 and 2018.
2016-09-21
Amazon Drones to Hitch Rides on Trucks or Buses
When Amazon eventually starts delivering items via drone, the company wants the option to land its unmanned aircrafts on trucks or buses for a portion of the journey, a filing with the U.S. Patent and Trademark Office shows.
2016-09-19
US Defense Innovation Unit-Experimental Now Open
US Secretary of Defense Ash Carter has announced that the Defense Department is expanding its technology startup DIUx, or Defense Innovation Unit-Experimental to Austin, Texas. DIUx was created to get new tech into the hands of our troops faster by changing the entire way DoD approaches innovation.
2016-09-15
DARPA Wants to Track UAS Over Urban Environments
Airspace for the flying public today is perpetually congested yet remarkably safe, thanks in no small part to a well-established air traffic control system that tracks, guides and continuously monitors thousands of flights a day. When it comes to small unmanned aerial systems (UAS) such as commercial quadcopters, however, no such comprehensive tracking system exists.
2016-09-13
Anti-Laser Lasers to Protect Drones
To defend against military lasers, Adsys Controls of Irvine, California, has created Helios, which can be carried on drones. To do much damage, an offensive laser needs to remain focused on its target for several seconds. Helios stops a laser from doing this by disrupting the systems controlling the beam – the Achilles' heel for all such weapons.
2016-09-12
Project Wing to Drop Burritos on Virginia Tech Students
Alphabet's innovation lab X drone-focused team called Project Wing has just announced a plan to commence aerial burrito delivery, in partnership with Chipotle, on the campus of Virgina Tech this week.
2016-09-09
US Army Tests Chemical, Biological Sensor Integration
ECBC joined with technology developers from private industry and other Army and joint organizations to test a new integrated system of chemical and biological agent sensors Aug. 15 through 26 at Dugway Proving Ground's West Desert Test Center in Utah.
2016-09-08
US Navy Demonstrates Cross-Domain Communications via Blackwing Submarine-Launched UAV
AeroVironment, Inc. has announced the United States Navy has successfully demonstrated the use of its submarine-launched Blackwing UAV to link with a swarm of unmanned undersea vehicles and communicate with the submarine combat control system during the Annual Naval Technology Exercise (ANTX) on August 16.
---
Information: