---
News
2013-07-11
To be released by Horizon Hobby just in time for Christmas a competitor for the DJI Phantom the current king of the ready to fly GoPro capable multirotors that has been on the market since January 2013. Parrot might be kicking themselves that they have not created a slightly more capable AR.Drone that can lift a GoPro out of the box without modifications.
GPS hold and return to launch all for the very reasonable price of $469 just a shade over $200 cheaper than the Phantom. If you already have a TX you can buy a bind and fly version for $419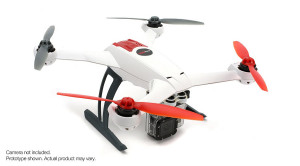 let the GoPro quadcopter price wars begin!
Blade is taking their knowledge of heli design to the aerial video market with the 350 QX. This highly capable quadcopter features dynamic flight modes that enable stable video capture from an included GoPro® compatible camera mount. With the 350 QX, novices and experts alike can get involved in this exciting hobby with Ready-to-Fly and Bind-N-Fly models available upon release.
Key Features
SAFE™ technology provides three flight modes with the flip of a switch
Smart Mode with GPS/altitude hold, stick relativity and the innovative SAFE circle
Stability Mode with flight envelope protection and GPS hold
Agility Mode for aerobatics and aggressive flying
Return Home function automatically lands at the home position
GoPro® compatible anti-vibration camera mount* included (camera not included)
Intelligent motor control automatically stops the propellers upon impact with an object
Ready-to-Fly out of the box with a Spektrum™ DX5E transmitter, 3S 2200mAh LiPo battery and charger
source: suasnews.com

Region:
USA and Canada
Contry:
USA
Category:
UAV
---
2016-07-24
What a Trump Presidency Could Mean for the Drone Industry
While the country discusses the effect that either candidate might have on the economy, at DRONELIFE we're focused on the drone industry. Making a few projections based on the direction that the party and Mr. Trump have taken, here's our take on the what a Trump presidency might mean for the drone industry; both the good and bad. We're neutral parties: stay tuned next week for what Hilary may have in store for drones.
2016-07-24
In depth with Tanky – The World's Fastest Ready-to-Fly Racing Drone?
There's a new drone startup making waves in the world of crowdfunding, and this time, it looks like speed is the top priority. California-based Tanky Drone has launched a crowdfunding campaign to bring its FPV racer to the wider public, which comes ready to fly and has, in testing at least, hit speeds in excess of 100 mph.
2016-07-24
Drones Go to Summer School
Students in a South Carolina County academic program received a firsthand view from above of how drones are changing the game for public-safety agencies.
2016-07-19
Amazon to Build "Birdhouses" for Drones
Amazon drone delivery appears to be making some progress, as the company filed a patent this week for birdhouse-like docking stations for drones.
2016-07-18
US Air Force Selects First Enlisted Airmen for Global Hawk Pilot Training
The US Air Force recently selected the first 10 enlisted Airmen to attend RQ-4 Global Hawk pilot training, marking the first time since World War II enlisted Airmen will be behind the stick. The first combined enlisted and officer training course will begin October 2016, with the first enlisted Airmen expected to graduate in 2017.
2016-07-18
UTC Aerospace Next-Gen Sensor for Global Hawk
UTC Aerospace Systems, a unit of United Technologies Corp. has been awarded a contract to support the integration and testing of the MS-177 multi-spectral imaging (MSI) and long-range intelligence, surveillance and reconnaissance (ISR) sensor onto the Northrop Grumman RQ-4B Global Hawk Unmanned Aircraft System (UAS).
2016-07-06
GoPro's Flying Box
PatentYogi has unveiled a patent application that might shine some light on the drone's design. They found a patent published last week, filed by a GoPro employee who works on drones.
2016-07-04
Hacking Team Reveals Cracks in Drone Network Armor
As the anti-drone industry grows, the many ways tech is used to down unmanned aircraft expands. Case in point — a research team at Johns Hopkins University recently demonstrated a hacking technique that joins a myriad of anti-drone solutions already out there – radar rifles, "virtual security domes," acoustic detectors and more.
2016-07-04
Measure and DJI Most Recent to Collaborate as Drone Firms Form Alliances
In another indication of a maturing drone industry a trend is afoot: drone hardware and software manufacturers are aligning to provide end to end solutions UAS users. The most recent was announced yesterday between Measure and DJI. Measure is a US based commercial drone operator of drones and DJI is a leading manufacturer of unmanned aerial vehicles. Their partnership pairs UAV technology with operational expertise so commercial enterprise customers meet their goals.
2016-06-29
Counterfire Radar Shows Multi-Mission Performance
The Lockheed Martin AN/TPQ-53 counterfire radar recently demonstrated its ability to identify and track unmanned aerial systems and pass that information to a command and control node, a key capability as the battlespace rapidly becomes more crowded with emerging air threats.
---

Parse error: syntax error, unexpected T_ENCAPSED_AND_WHITESPACE in /var/www/ruvsa/data/www/en.ruvsa.ru/bitrix/managed_cache/MYSQL/b_file/5a/5ad5ebaece0bbfabb73c5b6726823f71.php on line 5