---
Horizon Hobby 350 QX, GoPro quadcopter
2013-07-11
To be released by Horizon Hobby just in time for Christmas a competitor for the DJI Phantom the current king of the ready to fly GoPro capable multirotors that has been on the market since January 2013. Parrot might be kicking themselves that they have not created a slightly more capable AR.Drone that can lift a GoPro out of the box without modifications.
GPS hold and return to launch all for the very reasonable price of $469 just a shade over $200 cheaper than the Phantom. If you already have a TX you can buy a bind and fly version for $419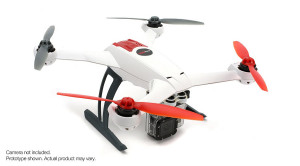 let the GoPro quadcopter price wars begin!
Blade is taking their knowledge of heli design to the aerial video market with the 350 QX. This highly capable quadcopter features dynamic flight modes that enable stable video capture from an included GoPro® compatible camera mount. With the 350 QX, novices and experts alike can get involved in this exciting hobby with Ready-to-Fly and Bind-N-Fly models available upon release.
Key Features
SAFE™ technology provides three flight modes with the flip of a switch
Smart Mode with GPS/altitude hold, stick relativity and the innovative SAFE circle
Stability Mode with flight envelope protection and GPS hold
Agility Mode for aerobatics and aggressive flying
Return Home function automatically lands at the home position
GoPro® compatible anti-vibration camera mount* included (camera not included)
Intelligent motor control automatically stops the propellers upon impact with an object
Ready-to-Fly out of the box with a Spektrum™ DX5E transmitter, 3S 2200mAh LiPo battery and charger
source: suasnews.com

Region:
USA and Canada
Contry:
USA
Category:
UAV
---
2014-04-02
NG sponsors 2014 UAV Outback Challenge
Northrop Grumman has announced it will sponsor the 2014 Unmanned Aerial Vehicle Outback Challenge competition.
2014-02-26
Unmanned aircraft to help study wiliwili trees
Unmanned aircraft will help researchers study a struggling Hawaiian tree species.
2014-02-25
Australia should boost stocks in drone aircraft, military lobby group says
AN influential air power lobby group wants Australia to acquire long-range unmanned combat aircraft that can fire precision missiles against targets without risk to pilots.
2014-02-25
Air Force to Test Raytheon Team's Hyperspectral UAV Sensor
The U.S. Air Force will test a hyperspectral imaging sensor developed by a Raytheon-lead contracting team for the service's MQ-1 Predator unmanned aircraft.
2014-02-18
Insitu upgrades unmanned aircraft system common command and control system
Insitu introduces version 2.0 of its ICOMC2 common command and control system, enabling a single operator to control multiple unmanned aircraft systems (UAS).
2014-02-18
Science in the sky: Acquisition of unmanned vehicle to help with CMU wetland research
For professor Benjamin Heumann, wetlands research would be a lot easier with a pair of eyes in the sky.
2014-02-13
Unmanned aerial logistics system aims to provide more front-line units with mission-tailored VTOL capabilities
U.S. military experience has shown that rugged terrain and threats such as ambushes and IED can make ground-based transportation to and from the front lines a dangerous challenge.
2014-02-13
UAV degrees are hot ticket
The Federal Aviation Administration estimates that as many as 7,500 commercial unmanned aerial vehicles could be flying in national airspace within a few years
2014-02-13
New Precision Aerial Ag Show Features UAV Showcase
AgEngage and Penton Farm Progress will host the new Precision Aerial Ag Show, July 9 and 10 in Decatur, Ill., featuring an unmanned aerial vehicle showcase.
2014-02-11
UAV successfully sees and avoids another aircraft while in flight
In a recent flight test in Australia, a Scan Eagle UAV succeeded in visually identifying an approaching Cessna aircraft, and letting its own ground-based operators know that evasive action was required.
---
Reports
Increasing numbers of aircraft are taking to the Texas skies unmanned.
Information: