---
Horizon Hobby 350 QX, GoPro quadcopter
2013-07-11
To be released by Horizon Hobby just in time for Christmas a competitor for the DJI Phantom the current king of the ready to fly GoPro capable multirotors that has been on the market since January 2013. Parrot might be kicking themselves that they have not created a slightly more capable AR.Drone that can lift a GoPro out of the box without modifications.
GPS hold and return to launch all for the very reasonable price of $469 just a shade over $200 cheaper than the Phantom. If you already have a TX you can buy a bind and fly version for $419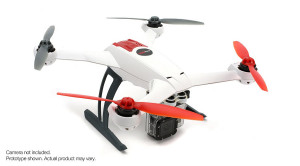 let the GoPro quadcopter price wars begin!
Blade is taking their knowledge of heli design to the aerial video market with the 350 QX. This highly capable quadcopter features dynamic flight modes that enable stable video capture from an included GoPro® compatible camera mount. With the 350 QX, novices and experts alike can get involved in this exciting hobby with Ready-to-Fly and Bind-N-Fly models available upon release.
Key Features
SAFE™ technology provides three flight modes with the flip of a switch
Smart Mode with GPS/altitude hold, stick relativity and the innovative SAFE circle
Stability Mode with flight envelope protection and GPS hold
Agility Mode for aerobatics and aggressive flying
Return Home function automatically lands at the home position
GoPro® compatible anti-vibration camera mount* included (camera not included)
Intelligent motor control automatically stops the propellers upon impact with an object
Ready-to-Fly out of the box with a Spektrum™ DX5E transmitter, 3S 2200mAh LiPo battery and charger
source: suasnews.com

Region:
USA and Canada
Contry:
USA
Category:
UAV
---
2016-06-27
US Navy's Triton Passes Full-Motion Video To P-8
The US Navy is continuing operational testing of its future unmanned long-endurance maritime surveillance aircraft, the MQ-4C Triton, demonstrating its ability to share critical mission information with the manned P-8A Poseidon multi-mission maritime patrol aircraft.
2016-06-27
Duke University uses Drones for Marine Research
David Johnston, assistant professor of the practice of marine conservation ecology at Duke University, is currently implementing drones to study coastal waterways.
2016-06-26
Part 107: The Winners and Losers Nobody's Talking About
Part 107, the Small UAS Rule, has been praised as a huge step forward for the drone industry and criticized for not going far enough to support industrial applications. While the new regulations will benefit some, there are both winners and losers as a result of the law.
2016-06-24
Hollywood Applauds FAA's New Regulations
Members of the Hollywood community are applauding the Federal Aviation Administration's final regulations for the commercial use of small drones, which includes those used in Hollywood production.
2016-06-23
Enabling a New Generation of Aviation Technology
This week, the Obama Administration will be highlighting America's capacity for creativity and invention and how our innovative progress over the last seven and a half years has helped continue to make our economy the strongest and most durable in the world.
2016-06-20
Canada Invests in Training & Test Range
The Honourable Navdeep Bains, Minister of Innovation, Science, and Economic Development and Minister responsible for Western Economic Diversification Canada, announced an investment of $300,000 to support the development of an Unmanned Aircraft Systems (UAS) range for training and field testing in the Village of Foremost.
2016-06-19
Transport Canada Bans Drones Over Small Town
Canadian officials have declared the skies drone free over a small town in northeast Alberta.
2016-06-17
USAF RPA Pilot Shortage Improving
There's real progress in the US Air Force's battle against what has been a chronic and widening shortage of remotely piloted aircraft operators, outgoing Chief of Staff Gen. Mark Welsh reported on Wednesday.
2016-06-14
Federal Agencies Working Together to Combat Unauthorized Drone Use during Wildfire Operations
As the 2016 wildfire season begins, federal agencies are again alerting industry and the public that the use of private drones (Unmanned Aircraft Systems or UAS) over or near active wildfire operations puts firefighters at risk and hampers their ability to protect lives, property and natural resources.
2016-06-12
Komatsu to Use Drones to Help Automate Digging in the US
Equipment manufacturer Komatsu will as early as this fiscal year roll out a service in the U.S. using drones to cut down on the labor required for excavation and earthwork on construction projects, according to a report in the Nikkei Asian Review.
---
Reports
Today, the Department of Transportation's Federal Aviation Administration has finalized the first 
operational rules
for routine commercial use of small unmanned aircraft systems (UAS or "drones"), opening pathways towards fully integrating UAS into the nation's airspace. These new regulations work to harness new innovations safely, to spur job growth, advance critical scientific research and save lives.
Information: