---
Horizon Hobby 350 QX, GoPro quadcopter
2013-07-11
To be released by Horizon Hobby just in time for Christmas a competitor for the DJI Phantom the current king of the ready to fly GoPro capable multirotors that has been on the market since January 2013. Parrot might be kicking themselves that they have not created a slightly more capable AR.Drone that can lift a GoPro out of the box without modifications.
GPS hold and return to launch all for the very reasonable price of $469 just a shade over $200 cheaper than the Phantom. If you already have a TX you can buy a bind and fly version for $419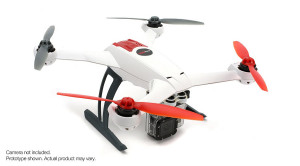 let the GoPro quadcopter price wars begin!
Blade is taking their knowledge of heli design to the aerial video market with the 350 QX. This highly capable quadcopter features dynamic flight modes that enable stable video capture from an included GoPro® compatible camera mount. With the 350 QX, novices and experts alike can get involved in this exciting hobby with Ready-to-Fly and Bind-N-Fly models available upon release.
Key Features
SAFE™ technology provides three flight modes with the flip of a switch
Smart Mode with GPS/altitude hold, stick relativity and the innovative SAFE circle
Stability Mode with flight envelope protection and GPS hold
Agility Mode for aerobatics and aggressive flying
Return Home function automatically lands at the home position
GoPro® compatible anti-vibration camera mount* included (camera not included)
Intelligent motor control automatically stops the propellers upon impact with an object
Ready-to-Fly out of the box with a Spektrum™ DX5E transmitter, 3S 2200mAh LiPo battery and charger
source: suasnews.com

Region:
USA and Canada
Contry:
USA
Category:
UAV
---
2016-11-30
Type-Certifiable Predator B Takes Flight
General Atomics Aeronautical Systems, Inc. (GA‑ASI), has  announced that its Type-Certifiable Predator B (TCPB) variant completed its first flight test at the company's Gray Butte Flight Operations Facility near Palmdale, Calif., on November 17th.
2016-11-21
FAA Evaluates Drone Detection Systems Around Denver
Unmanned Aircraft Systems (UAS) that enter the protected airspace around airports can pose serious threats to safety. The FAA is coordinating with our government and industry partners to evaluate technologies that can be used safely to detect drones near airports.
2016-11-17
New York Makes $30M Public Investment in Drones
The state of New York is pouring big money into making its central territory an international draw for unmanned aerial system (UAS) innovation.Govenor Andrew Cuomo announced Nov. 10 that $30 million in public funds would be applied toward the creation of a 50-mile-long research corridor to aid in the development of a UAS traffic management system and bolster the state's standing as an innovation hub.
2016-10-31
Pentagon to Publish New UAS Roadmap Early 2017
The US Department of Defense (DoD) is to soon publish a new unmanned systems roadmap meant to guide industry for future investments and technology development.
2016-10-23
Amazon Patents Unmanned Aerial Vehicle Assistant
Amazon has received a patent that covers the systems required to build a pocket-sized unmanned aerial vehicle (UAV) that responds to voice commands.The patent application published by the U.S. Patent and Trademark Office says Amazon's technologies are supposed to enable miniature drones that are "smaller, lighter, and less expensive than conventional UAVs."
2016-10-18
FAA Publishes Clarification of the Applicability of Aircraft Registration Requirements for UAS
This document clarifies the applicability of the statutory requirements regarding aircraft registration to UAS, including those operating as model aircraft.
2016-10-17
Facebook to Test Wireless Technology on Low-Flying Drones Above its Headquarters
The skies above Facebook's Silicon Valley headquarters may soon be buzzing with the sound of quadcopter drones. That's because the company plans to fly at least one small, wireless-beaming drone at an altitude of 400 feet around its headquarters in the coming months.
2016-10-16
Zipline Begins Humanitarian Drone Delivery in Rwanda
San Francisco based Zipline drones have begun regular humanitarian drone deliveries to hospitals in rural Rwanda.
2016-10-14
Drone Aviation Gets DoD Contract for WATT Tethered Drones
Drone Aviation Holding Corp, a manufacturer of tethered drones and lighter-than-air aerostats, has announced that it has been awarded a contract to supply its WATT electric tethered drones to a U.S. Department of Defense (DoD) customer.
2016-10-14
White House Drone Workshop Proceedings
The AUVSI Foundation presents the proceedings of the August 2, 2016 "Workshop on Drones and the Future of Aviation," an event co-hosted with the White House Office of Science and Technology Policy (OSTP). 
---
Information: