---
Horizon Hobby 350 QX, GoPro quadcopter
2013-07-11
To be released by Horizon Hobby just in time for Christmas a competitor for the DJI Phantom the current king of the ready to fly GoPro capable multirotors that has been on the market since January 2013. Parrot might be kicking themselves that they have not created a slightly more capable AR.Drone that can lift a GoPro out of the box without modifications.
GPS hold and return to launch all for the very reasonable price of $469 just a shade over $200 cheaper than the Phantom. If you already have a TX you can buy a bind and fly version for $419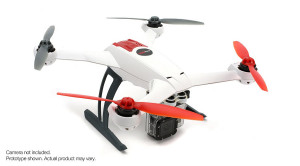 let the GoPro quadcopter price wars begin!
Blade is taking their knowledge of heli design to the aerial video market with the 350 QX. This highly capable quadcopter features dynamic flight modes that enable stable video capture from an included GoPro® compatible camera mount. With the 350 QX, novices and experts alike can get involved in this exciting hobby with Ready-to-Fly and Bind-N-Fly models available upon release.
Key Features
SAFE™ technology provides three flight modes with the flip of a switch
Smart Mode with GPS/altitude hold, stick relativity and the innovative SAFE circle
Stability Mode with flight envelope protection and GPS hold
Agility Mode for aerobatics and aggressive flying
Return Home function automatically lands at the home position
GoPro® compatible anti-vibration camera mount* included (camera not included)
Intelligent motor control automatically stops the propellers upon impact with an object
Ready-to-Fly out of the box with a Spektrum™ DX5E transmitter, 3S 2200mAh LiPo battery and charger
source: suasnews.com

Region:
USA and Canada
Contry:
USA
Category:
UAV
---
2015-11-30
Amazon Shows Off New Prime Air Drone With Hybrid Design
Amazon delivered a lovely update on its 'Prime Air' project today — almost exactly two years after it showed the first iteration of its drone. You know, the flying delivery drone that some thought was a massive joke meant for April 1st. Included are some high-res shots and two new videos.
2015-11-29
Bill would regulate hobby drones in Oregon
If you're planning to arm your hobby drone, your window is closing.
2015-11-29
Wired went to the inaugural Drone World Expo and saw the future. "It sounds like bees."
Standing in front of a drone in a mesh cage, a somewhat nervous man with a somewhat Southern accent tells us about his machine, which a pilot is banking left and right and flinging up and down. It's got a 4K camera and can hit 40 mph. When its battery runs low, it buzzes your phone. It's not just a "solution," but a "complete solution."
2015-11-27
US testing an 'air traffic control system' for drones
The Guardian has gained access to the first tests of an experimental air traffic control system for drones that could open the skies to millions of low-flying unmanned aircraft.
2015-11-26
AeroVironment Gets $13 M RQ-20A Puma AE Order from US Marine Corps
AeroVironment, Inc. announced it received a firm fixed-price order valued at $13,015,396 for RQ-20A Puma AE small unmanned aircraft systems (UAS) and initial spares packages for the United States Marine Corps on October 27, 2015.
2015-11-25
Drone pilot training center on fast track in North Dakota
A major U.S. defense contractor that is opening an unmanned aircraft training academy in North Dakota may start with a temporary structure because of the growing demand for pilots and other crew members, the head of a drone business park says.
2015-11-24
Lockheed Martin Eyes AeroVironment Acquistion
One of AeroVironment's fastest-growing products is the Switchblade UAV, a small "kamikaze" drone that launches from a tube or canister, extends its wings, and then flies as far as 10 kilometers under remote control, beaming back video to its control en route. Upon finding a target, Switchblade can be commanded to strike said target and detonate a small warhead, destroying drone and target simultaneously.
2015-11-23
SkyTracker's anti-UAS Electronic Perimeter Boundary
CACI International Inc has announced the release of SkyTracker, a precision system to protect high-value assets and support public safety against the escalating threat posed by the inadvertent or unlawful misuse of unmanned aircraft systems (UAS).
2015-11-23
Triton Begins Operational Assessment
The MQ-4C Triton unmanned aircraft system began one of the events that will be used to support the program's Milestone C review and entry into low-rate initial production Nov. 17 at NAS Patuxent River.
2015-11-22
Duke Marine Lab uses UAV technology to research marine life
Researchers at the Duke University Marine Lab have put together an elaborate system of unmanned aerial devices to study marine life off the Atlantic Coast.
---
Reports
"We do underneath rope access inspections," said Barritt Lovelace, a regional manager for Collins Engineers Inc., an agency headquartered in Chicago with offices throughout the country. "Basically, we rock-climb bridges. It's a lot of fun." In Duluth recently, Lovelace stood with a host of others below the Blatnik Bridge to participate in a demonstration of the Minnesota Department of Transportation's ongoing study of using drones for bridge inspection purposes.
Information: