---
Horizon Hobby 350 QX, GoPro quadcopter
2013-07-11
To be released by Horizon Hobby just in time for Christmas a competitor for the DJI Phantom the current king of the ready to fly GoPro capable multirotors that has been on the market since January 2013. Parrot might be kicking themselves that they have not created a slightly more capable AR.Drone that can lift a GoPro out of the box without modifications.
GPS hold and return to launch all for the very reasonable price of $469 just a shade over $200 cheaper than the Phantom. If you already have a TX you can buy a bind and fly version for $419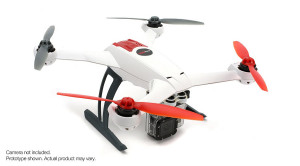 let the GoPro quadcopter price wars begin!
Blade is taking their knowledge of heli design to the aerial video market with the 350 QX. This highly capable quadcopter features dynamic flight modes that enable stable video capture from an included GoPro® compatible camera mount. With the 350 QX, novices and experts alike can get involved in this exciting hobby with Ready-to-Fly and Bind-N-Fly models available upon release.
Key Features
SAFE™ technology provides three flight modes with the flip of a switch
Smart Mode with GPS/altitude hold, stick relativity and the innovative SAFE circle
Stability Mode with flight envelope protection and GPS hold
Agility Mode for aerobatics and aggressive flying
Return Home function automatically lands at the home position
GoPro® compatible anti-vibration camera mount* included (camera not included)
Intelligent motor control automatically stops the propellers upon impact with an object
Ready-to-Fly out of the box with a Spektrum™ DX5E transmitter, 3S 2200mAh LiPo battery and charger
source: suasnews.com

Region:
USA and Canada
Contry:
USA
Category:
UAV
---
2015-09-01
FAA reports five close calls with drones in Oklahoma
In January, the pilot of a Hawker Beechcraft Bonanza flying over Tulsa reported seeing a 3-foot by 3-foot black drone flying about a quarter-mile off his left wing.


2015-09-01
U.S. deploys Predator drones to Latvia
The U.S. deployed MQ-1 Predator drones to Latvia for the first time this weekend, the Pentagon announced Monday.


2015-08-19
FAA Selects Mississippi State University Team As Center of Excellence for Unmanned Aircraft Systems
After a rigorous competition, the U.S. Department of Transportation's Federal Aviation Administration (FAA) has selected a Mississippi State University team as the FAA's Center of Excellence for Unmanned Aircraft Systems (COE UAS). The COE will focus on research, education and training in areas critical to safe and successful integration of UAS into the nation's airspace.
2015-08-11
Drone Researchers Face Restrictions from Federal Authorities
There is a high probability that remotely operated drones could be used to deliver medical supplies to disaster zones and underdeveloped countries, or to deliver packages to homes. Although drones have a large number of practical applications which need to be researched and tested, the restrictions placed by federal authorities do not allow researchers to test these unmanned aircrafts outdoors.
2015-08-10
Insitu Conducts Successful Arctic Search and Rescue Demonstrations for U.S. Coast Guard
Launching its ScanEagle unmanned aircraft from Oliktok Point at the North Slope of Alaska, Insitu conducted flight operations for the U.S. Coast Guard 13-15 July. The successful demonstration was part of the Coast Guard Research and Development Center's Arctic Technology Evaluation 2015 Search and Rescue exercise (SAREX 2015).
2015-08-06
Lockheed Martin Tech for UAS UTM System
Lockheed Martin has deployed the first components of an Unmanned Aircraft Systems (UAS) Traffic Management (UTM) system aimed to improve situational awareness to UAS operators and pilots as unmanned aircraft begin to enter airspace.
2015-08-04
Blood Samples Successfully Transported by UAV
Laboratory tests performed on blood samples flown for up to 40 minutes on hobby-sized drones yielded results comparable to those performed on samples that never left the ground, according to a proof-of-concept study conducted by researchers at Johns Hopkins University.
2014-04-02
NG sponsors 2014 UAV Outback Challenge
Northrop Grumman has announced it will sponsor the 2014 Unmanned Aerial Vehicle Outback Challenge competition.
2014-02-26
Unmanned aircraft to help study wiliwili trees
Unmanned aircraft will help researchers study a struggling Hawaiian tree species.
2014-02-25
Australia should boost stocks in drone aircraft, military lobby group says
AN influential air power lobby group wants Australia to acquire long-range unmanned combat aircraft that can fire precision missiles against targets without risk to pilots.
---
Reports
Scientists are working on creating   a new design for a technology that redefines what the public views as imaginary. Inspired  by the  well-known Invisibility Cloak from Harry  Potter, electrical  engineers at  the University of California,  San  Diego have created a  new design  for  their cloaking device,  using  a  Teflon substrate,  studded with cylinders of ceramic,  that is  thinner than any prior development and does not alter the brightness of light around concealed  objects.
Information: